Are you struggling to write the perfect description for your Etsy product listing? If yes then you are not alone, every Etsy seller shares the same pain.
Crafting a compelling and informative product description is key to attracting potential buyers and increasing your sales on the online marketplace. But you don't need to take that seriously as it's not that much of a bigger issue anymore.
We have a secret weapon that can help you write the perfect Etsy product description in just 5 minutes!
In this blog, we will be introducing you to an AI writing tool that has revolutionized the way you write product descriptions for Etsy.
This tool leverages the power of the latest natural language processing technology to generate high-quality, unique, and captivating product descriptions tailored to your specific Etsy products.
With just a few taps on your mobile device, you can have a product description that is sure to grab the attention of buyers on Etsy by providing them with all the information and convincing them to make a purchase from your Etsy store.
No more spending hours agonizing over the perfect words and phrasing, this AI writing app has everything to get you covered.
It takes into account all the important elements that make a great product description such as highlighting the unique features and benefits, using persuasive language, and providing accurate details about the product.
So, no matter if you wrote product descriptions yourself or hired an expensive writer to write them for you, this AI product description writer app is the perfect solution to help you write the perfect product description in just minutes.
Say goodbye to writer's block and hello to increased sales with the help of this powerful app. Here's how to write perfect Etsy product description in 5 minutes.
Can I Trust An AI Writing App to Write Descriptions for My Etsy Products?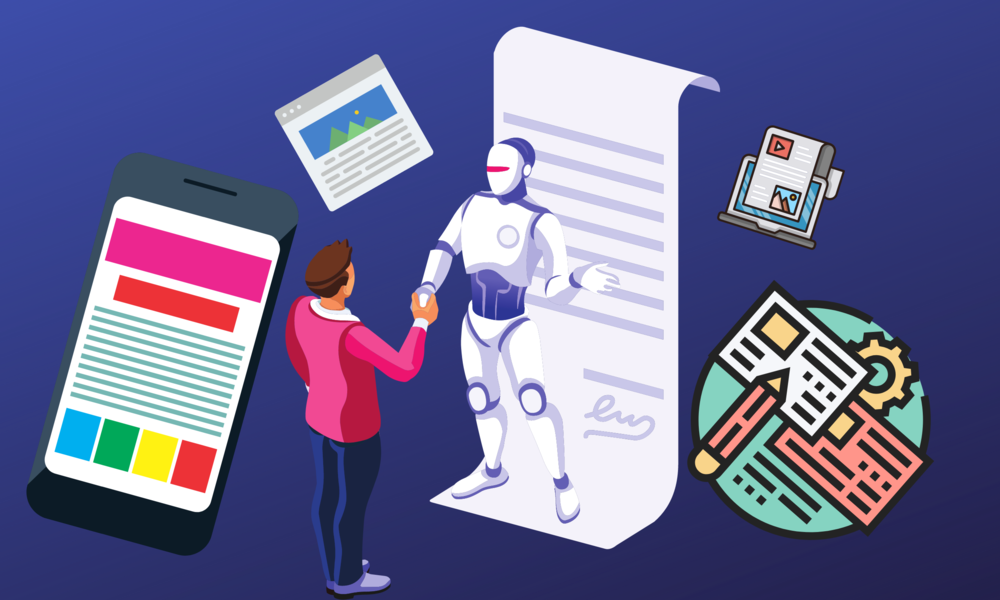 The answer to the question of whether or not you can trust an AI content writer tool to write descriptions for your Etsy products depends on the specific AI writing app you are using.
While there are a number of AI writing apps available in the market that can help you generate product descriptions quickly and easily, not all of them are created equal.
Some apps may be more reliable and effective than others, and it's essential to do your research to ensure that you are using a trustworthy and effective writing app.
It's important to remember that an AI writing app is only as good as the data and programming that has gone into its development.
If the app has been trained on high-quality data and programmed with sophisticated algorithms, it can potentially generate high-quality product descriptions that are tailored to your specific needs.
However, if the app has been programmed with inadequate or insufficient data, it may not be able to generate product descriptions that are accurate, informative, and persuasive enough to attract potential buyers.
That's why it's essential to use a writing app like Magiscriptor that has been designed specifically for product descriptions and has been tested and proven to be effective.
What Makes Magiscriptor the Best Product Description Writing App for Etsy?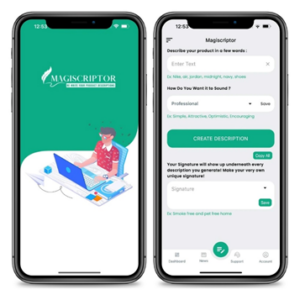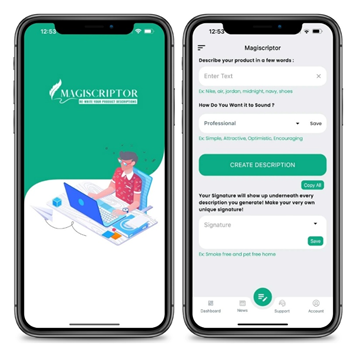 Magiscriptor is a product description writing app that is specifically designed for Etsy sellers. It stands out as the best AI app for writing Etsy product descriptions due to its unique features and capabilities.
One of the most important features of Magiscriptor is its use of a model that is trained on millions of product description data.
This means that the app has access to a vast database of product descriptions that it can draw from to create high-quality and effective product descriptions for Etsy sellers.
Another key benefit of Magiscriptor is that it is not a general AI writer, but is specifically built for writing Etsy product descriptions.
This means that it has a deep understanding of the marketplace and the needs of Etsy sellers, making it a more effective tool for creating product descriptions that will help sellers stand out in a crowded marketplace.
Magiscriptor uses prompt to create product descriptions, which means that sellers can give specific prompts about their products and then generates a description based on their prompts.
This approach ensures that the output description is highly relevant and specific to the product being sold.
In addition, Magiscriptor enables sellers to specify the tone of their product descriptions to suit their brand and audience.
This means that sellers can tailor their descriptions to their unique style and voice, helping them to build a strong and consistent brand presence on Etsy.
Finally, Magiscriptor writes product descriptions that are optimized with keywords, which is essential for Etsy SEO.
The inclusion of SEO keywords in product descriptions helps sellers improve their search rankings on Etsy, making it easier for buyers to find their products.
How to Write Perfect Etsy Product Description with the Magiscriptor App?
1- First, download the Magiscriptor app from Apple Store or Google Play Store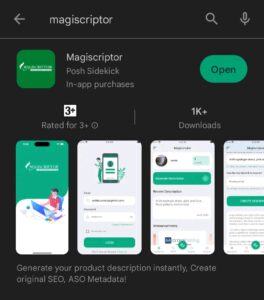 2- Signup for an account and buy credits (Each credit= 1 Description)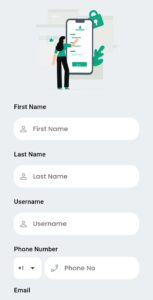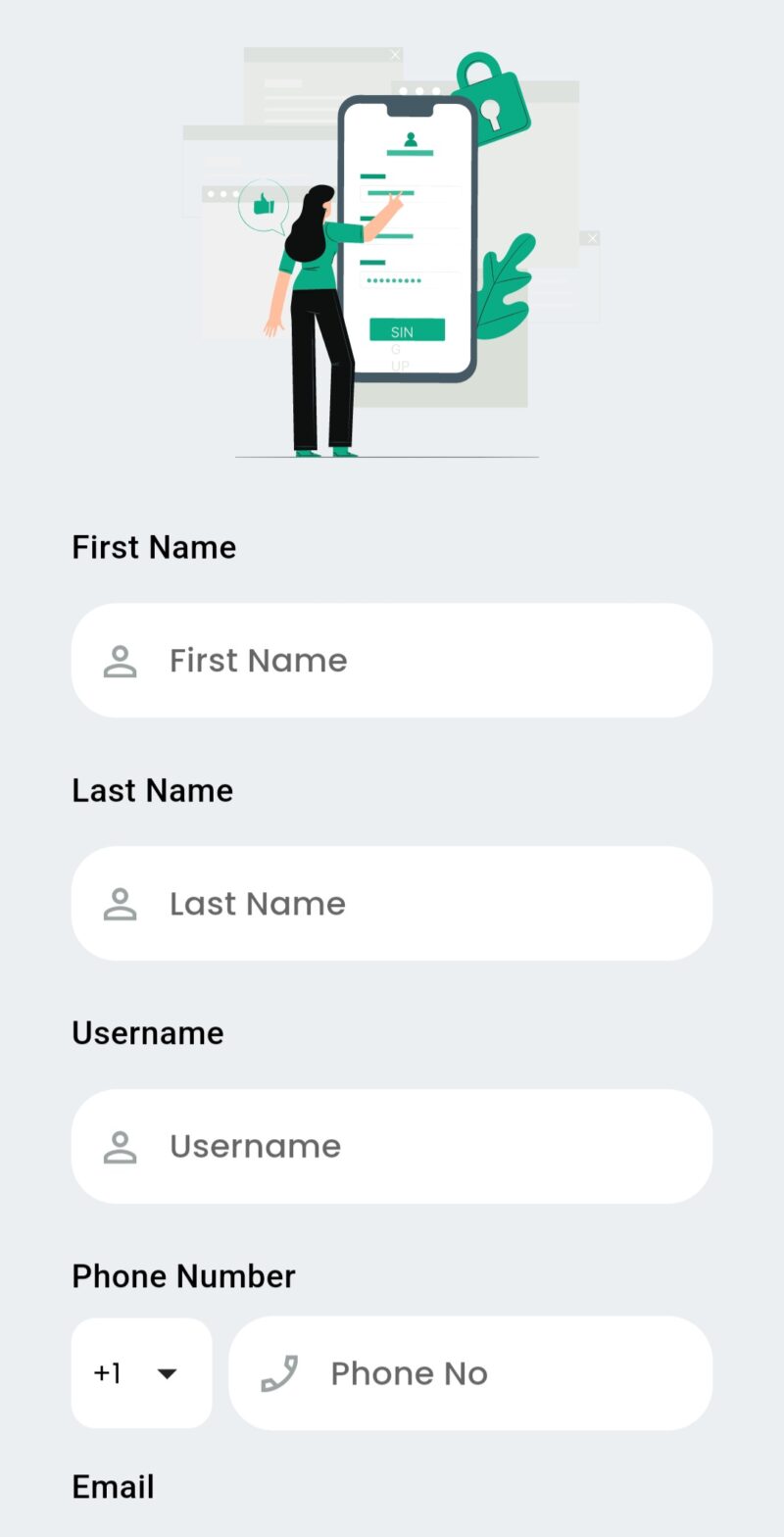 3- Once completing the signup process, login to your account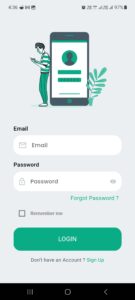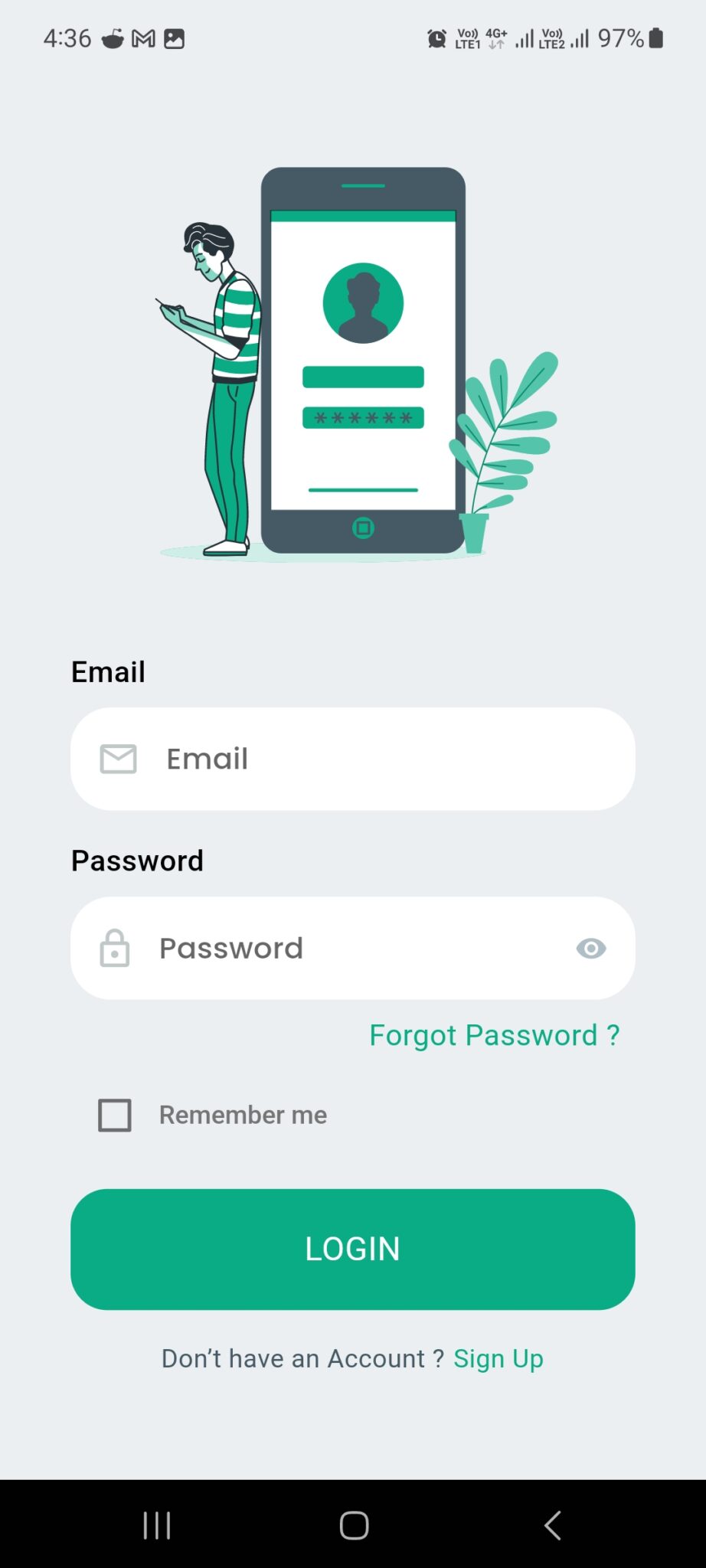 4- Tap "Generate Description"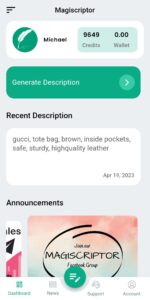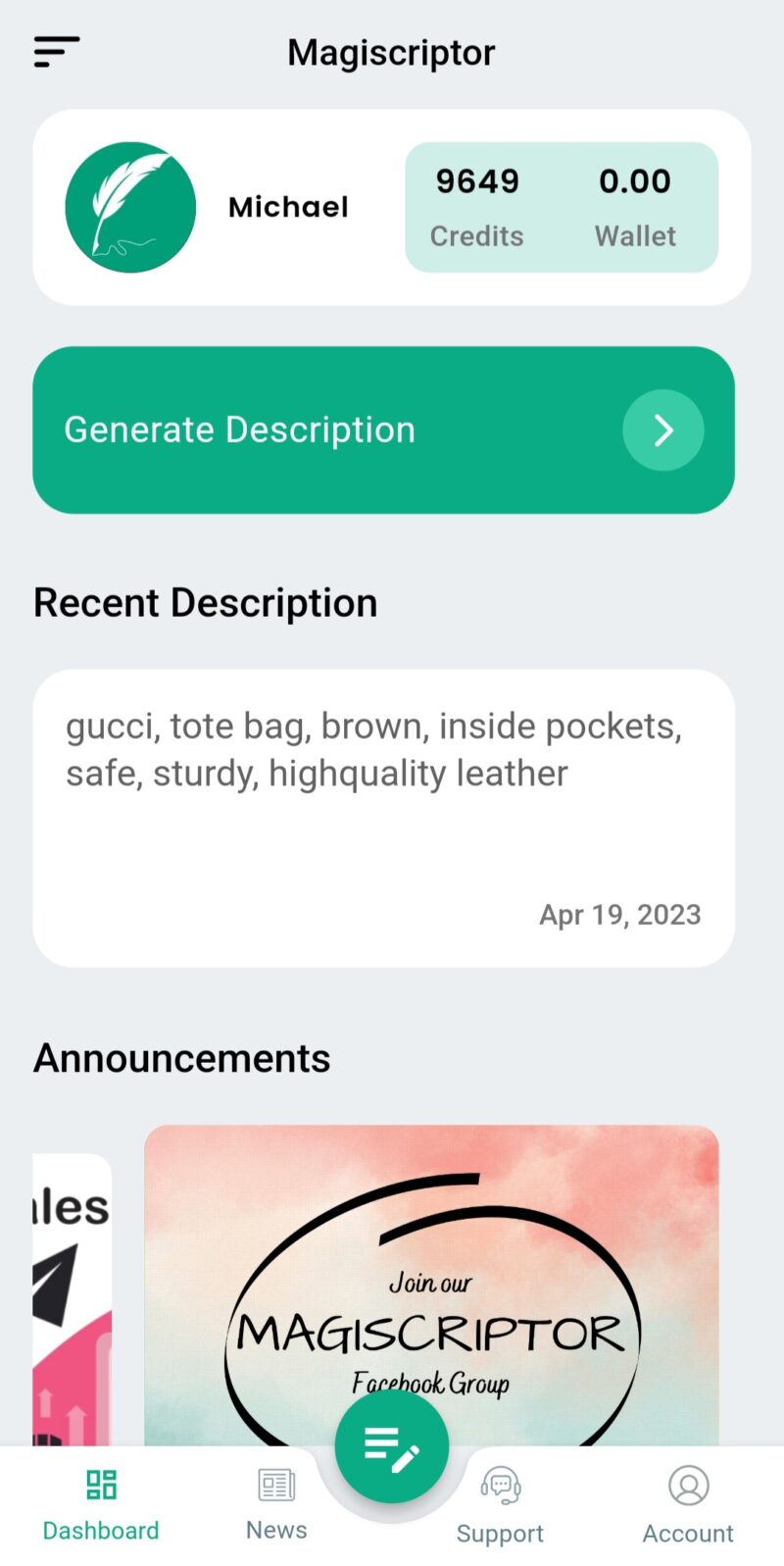 5- Describe your product in a few word using the text field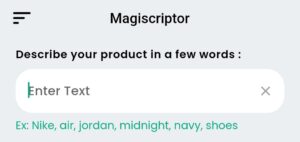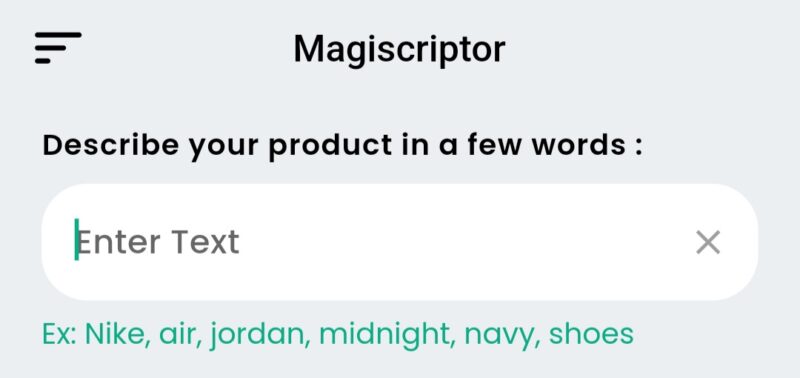 6- Select the tone of your product description from the available tones and word count, and tap "Create Description"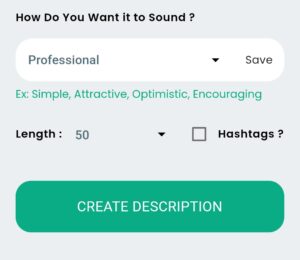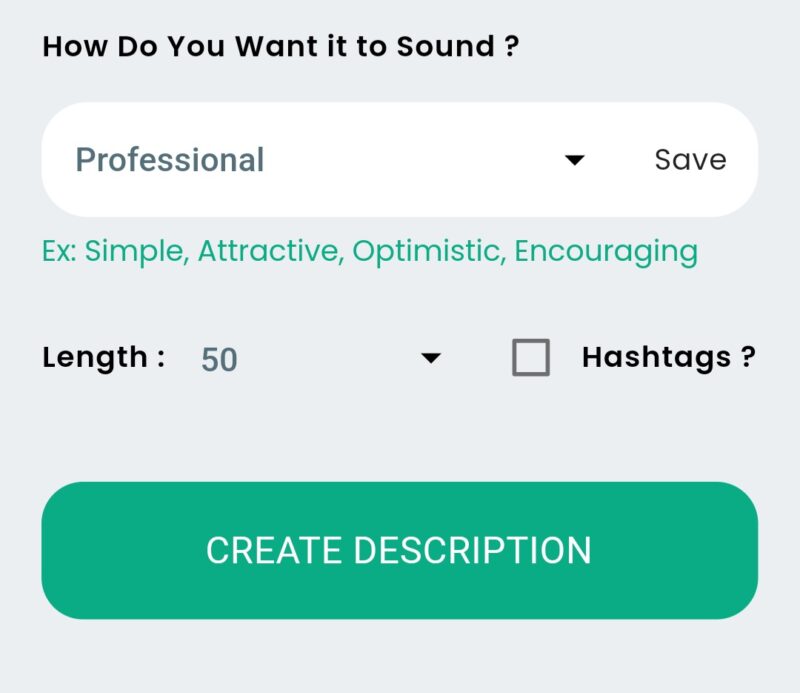 7- Hurray! you have your Etsy product description.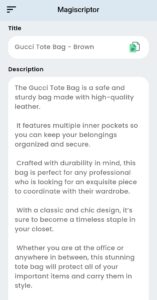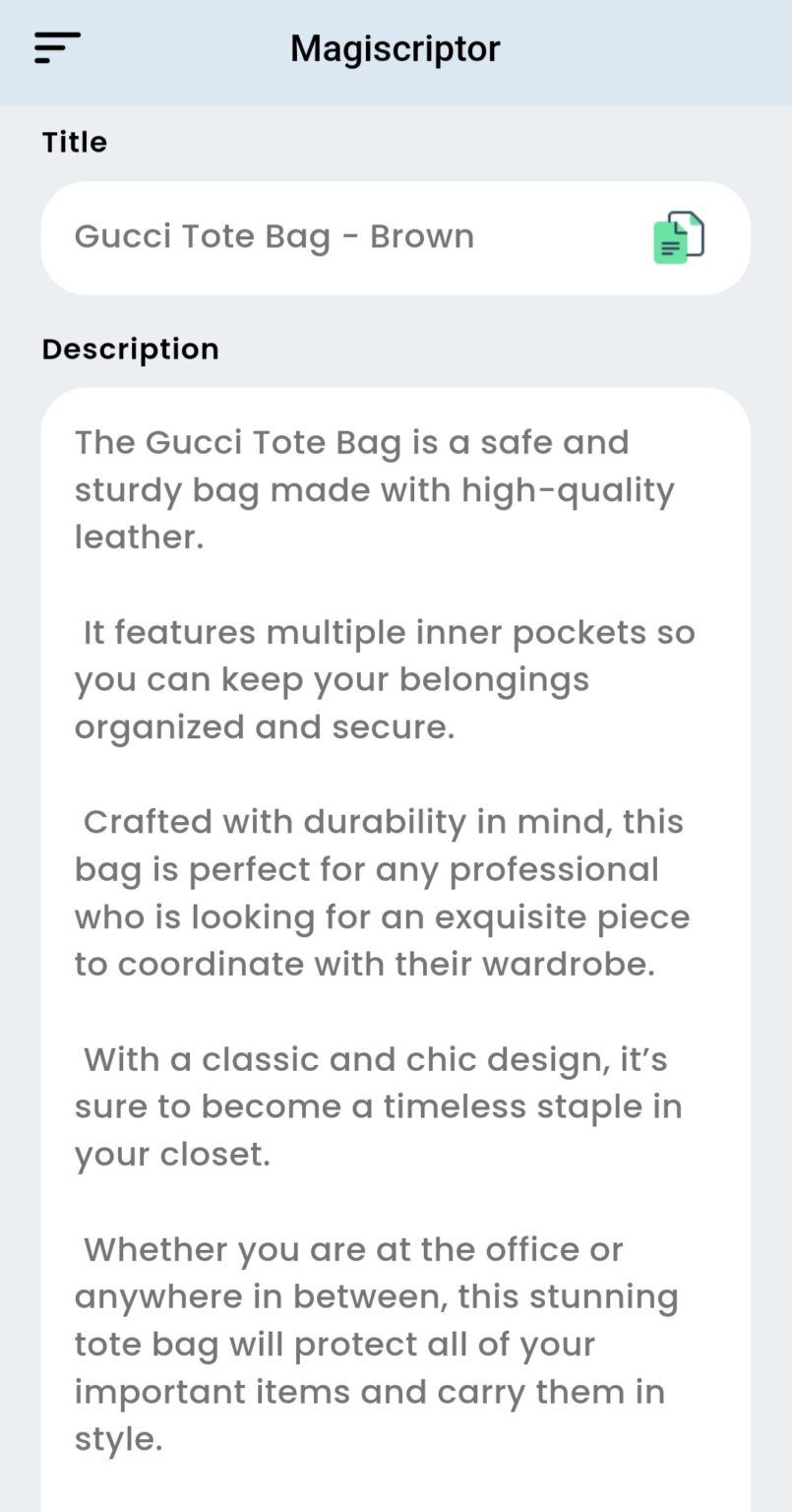 Frequently Asked Questions (FAQs)
Q: What should be included in an Etsy product description?
A: Your product description should include a clear and concise description of the item, its features, and any specifications or dimensions. You may also want to include information on the materials used and any care instructions.
Q: How long should an Etsy product description be?
A: There's no hard and fast rule, but aim for at least a few paragraphs (3-5 sentences each) to give customers a good sense of what your product is and why they should buy it.
You need to provide enough information to answer any potential questions or concerns a customer might have.
Q: How can I make my Etsy product description stand out?
A: Consider using descriptive language and imagery to help paint a picture in the customer's mind. Use bullet points or short paragraphs to break up the text and make it easier to read. Moreover, try to highlight any unique selling points or benefits of your product that set it apart from others.
Q: Can I copy product descriptions from other sellers on Etsy?
A: No, it's not a good idea to copy other sellers' product descriptions. Not only it is unethical, but it can also hurt your SEO rankings and make it harder for buyers to find your listing. So write your own unique descriptions to showcase your product and your brand.
Q: Is there anything else I should know about writing product descriptions on Etsy?
A: Make sure to proofread your descriptions carefully for spelling and grammar errors. Also, keep in mind that Etsy has specific guidelines for what can and can't be included in product descriptions (e.g. no medical claims or guaranteed results), so be sure to review those before publishing your listing.