In today's digital age, having a strong online presence is critical to the success of any business.
Whether you're an established brand or just starting out, an e-commerce platform like Shopify can help you reach your target audience and increase sales.
However, creating compelling product descriptions that grab your customers' attention and persuade them to make a purchase can be a challenging task.
That's where product description generators come in. These tools can save you time and effort by automatically generating unique, SEO-friendly descriptions for your Shopify products.
However, with so many options available, how do you choose the best Shopify product description generator for your business?
Don't worry because in this blog post, we will be discussing the top 5 best Shopify product description generators to help you streamline your e-commerce workflow.
We'll provide an overview of each tool's features, pros and cons, and pricing options. Moreover, we'll cover a range of options to suit your needs and budget.
So whether you're a professional Shopify seller or just getting started, read on to discover the best product description generators for 2023 that will take your online store to the next level.
Is It a Good Idea to Write Shopify Product Descriptions with an AI Writing Tool?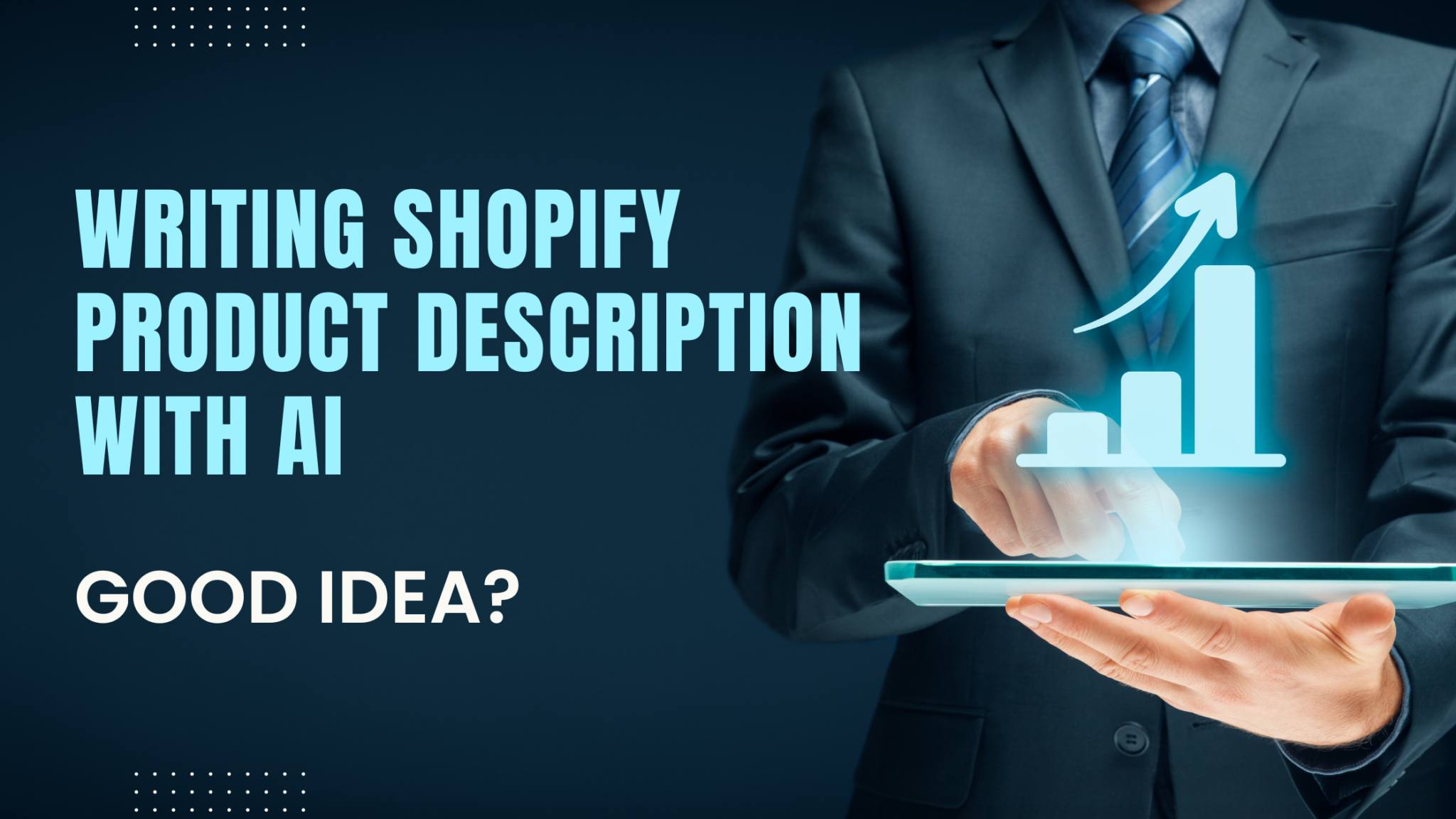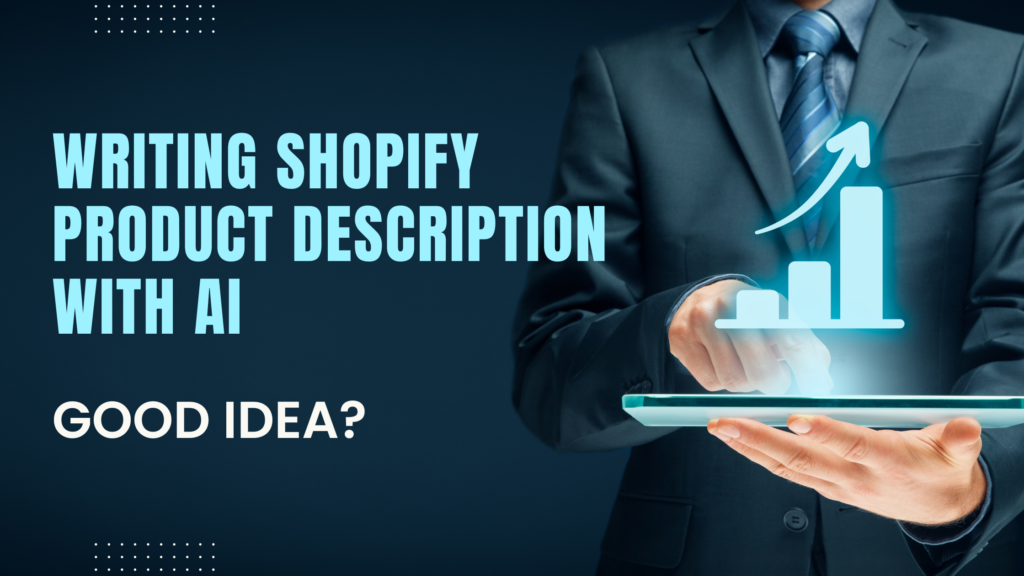 Using an AI writing tool to generate product descriptions for your Shopify store can be a great idea, provided that you use it effectively. AI writing tools can help save time and effort, and can produce unique and high-quality content. However, it's important to understand the limitations and potential drawbacks of using AI tools.
Here are some benefits of using an AI writing tool for generating Shopify product descriptions:
Increased Efficiency and Productivity:
With an AI writing tool, you can significantly increase the efficiency and productivity of your product description writing process. The AI tool can generate high-quality product descriptions in a matter of seconds, saving you a lot of time and effort.
Consistency:
Consistency is essential when it comes to creating a strong brand image. By using an AI writing tool, you can ensure that all your product descriptions are consistent in tone, language, and style, which helps to reinforce your brand's identity.
Improved SEO:
Writing product descriptions that are optimized for search engines is crucial for ensuring your products are easily discoverable by potential customers. An AI writing tool can help you identify and include relevant keywords in your product descriptions, which can significantly improve your product's visibility on search engines.
Increased Conversion Rates:
Well-crafted product descriptions can help in persuading customers to make a purchase from you. AI writing tools can help you write descriptions that are compelling, informative, and persuasive, which can significantly increase your product's conversion rates.
Cost-Effective:
Hiring a professional product description writer can be expensive, and it may not be feasible for small businesses or individuals. An AI writing tool can help you create high-quality product descriptions at a fraction of the cost, making it a cost-effective solution for your business.
How to Choose The Best Product Description Generator for Shopify?
As we mentioned above that choosing the best product description generator for your Shopify store can be a daunting task.
With so many options available, it can be hard to determine which one will provide the most value for your business.
Therefore, to help you out, here are a few factors to consider when selecting a product description generator:
Customizability:
Always look for a product description generator that allows you to customize the generated descriptions to suit your brand's voice and style. Some generators offer pre-made templates, while others use AI to generate unique descriptions based on your input.
SEO Optimization:
Do make sure that the generator you choose generates descriptions that are SEO-optimized. Good product descriptions should include relevant keywords and phrases that can help improve your store's search engine rankings.
Ease of Use:
The product description generator should be easy to use and integrate seamlessly with your Shopify store. It should also save you time by automating the product description creation process.
Pricing:
Consider the pricing structure of the generator you choose. Some generators offer free plans or trial periods, while others require a monthly subscription. Make sure you choose a plan that fits your budget and provides the features you need.
Ratings & Reviews:
Look for ratings, reviews, and feedback from other Shopify sellers who have used the product description generator. This can help you get an idea of the quality of the generated descriptions and the overall experience of using the tool.
5 Best Product Description Generators For Shopify
1- Magiscriptor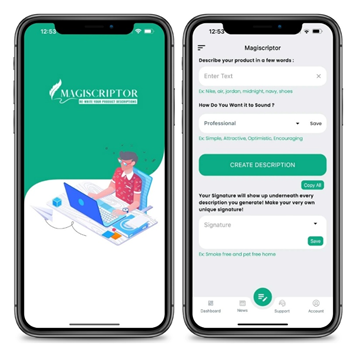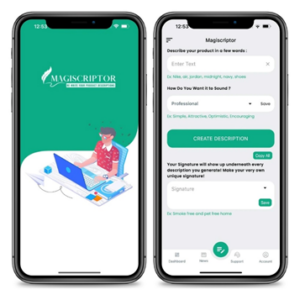 If you are looking for the best writing app for Android that can produce human-level product descriptions for Shopify then MagiScriptor should be your go-to tool.
So what makes MagiScriptor the ideal tool for writing Shopify product descriptions?
Well, first of all, MagiScriptor is an AI writing tool that is particularly made and trained for writing product descriptions.
Be it your Shopify dropshipping store or your WordPress ecommerce website, with MagiScriptor, you can write description for any product you want.
MagiScriptor uses cutting-edge artificial intelligence technology along with advanced NLP algorithms to ensure that your product descriptions accurately reflect your brand and product.
Moreover, the team at MagiScriptor is working tirelessly to develop and improve the product description tool by inputting more training data so that it can constantly generate engaging and standout product descriptions for your products without getting redundant.
In addition to its advanced writing capabilities, the professional AI content writer is also great at naturally integrating keywords.
This means that your product pages will have a higher chance of showing up on search result pages, helping to drive more traffic and sales to your Shopify store.
The product description writing tool is also smartly trained to write descriptions that are enticed with benefits, stimulate the senses, and targets the buyers' persona.
With MagiScriptor, it's super easy to write product descriptions in an instant and make your dropshipping business on Shopify a success!
2- Jasper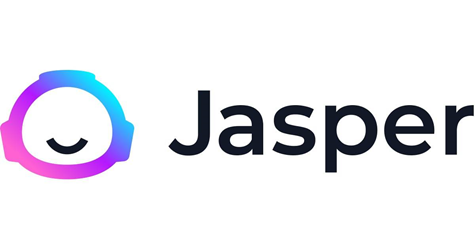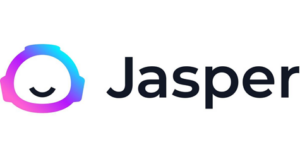 If you are on the quest for a content generator tool tool that has powerful features and advanced capabilities then Jasper is just that tool.
Though Jasper is not a content generator tool that is specifically trained for writing Shopify product descriptions, it still does a very decent job writing them.
With Jasper, you can generate effective, human-like copies that can help take your Shopify dropshipping business to new heights. No matter if you need to write content for product descriptions or Facebook ads.
One of the most impressive things about Jasper is its ability to leverage proven copywriting principles like AIDA to create copies that read as if a human wrote them.
This means you can rest assured that your copy will be effective, engaging, and capable of driving real results for your business.
Moreover, Jasper supports over 25 languages, including Spanish, German, and Chinese. Making it easier for you to expand into new non-English speaking markets.
In addition, Jasper also comes equipped with numerous pre-made product description templates, making it easy to create persuasive descriptions at scale.
However, a little human effort might be required from your side as well.
3- CopySmith


At number 3, on our best Shopify product description generators list we have CopySmith.Ai
What you will really like about CopySmith is that it has a user-friendly interface that makes it a super convenient tool to generate Shopify product descriptions quickly.
The tool offers you multiple templates to choose from, so you can select the one that best suits your needs.
Moreover, CopySmith provides users with the ability to customize the generated Shopify product descriptions by using their own brand voice and tone.
The tool even allows users to input specific details about their products, such as color, size, and materials, to ensure the descriptions accurately represent the products.
Talking about writing quality, the CopySmith product description tool for Shopify is designed to write engaging, informative, and persuasive descriptions.
The tool uses natural language processing to analyze product data and generate descriptions that are both accurate and compelling.
Meanwhile, CopySmith's pricing is based on a subscription model, with pricing starting at $19 per month for up to 20,000 words.
While this may be a bit expensive for some small businesses, the value of the tool is likely to outweigh the cost for many Shopify store owners.
4- Hypotenuse AI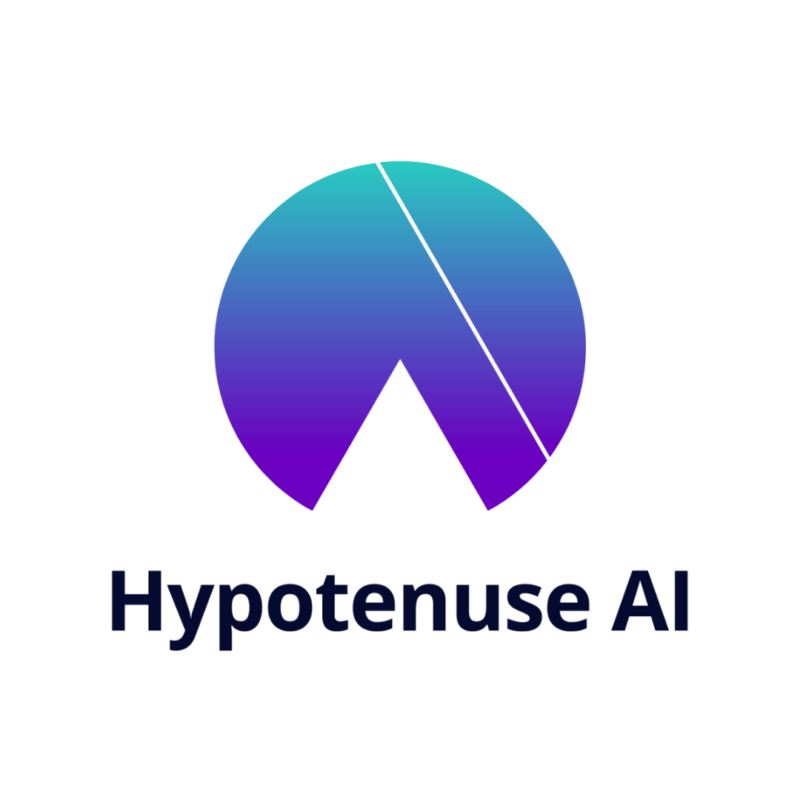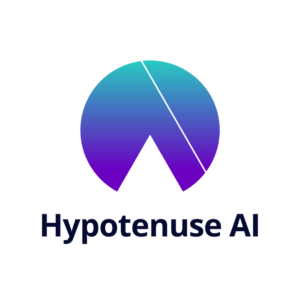 Hypotenuse AI is a not so known Shopify product description generator that uses artificial intelligence to create unique and engaging product descriptions for Shopify stores.
This product description generator is designed to help online Shopify store owners like you save time and effort while enhancing the quality of their product descriptions.
The best thing about Hypotenuse AI is that it can be integrated into any Shopify store.
Once it will get integrated with an account, it will automatically start pulling all the product information so you can generate product descriptions directly on the Hypotenuse AI platform.
Another impressive thing about the product description generator is that it suggests you various keywords based on your images and descriptions for better content generation.
The content generation tool uses natural language processing and machine learning algorithms to analyze product information and generate descriptions that are optimized for both search engines and customers.
Moreover, the tool avoids the use of generic product descriptions that are commonly found on many e-commerce websites. Instead, it creates descriptions that are tailored to the specific product and brand.
In terms of pricing, Hypotenuse AI is a little pricey compared to other tools on this list. The monthly subscription of the tool starts at $24 per month.
5- Descrii

Last but not the least, we have Descrii!
Descrii is another AI-powered product description generator that is designed to help Shopify businesses create unique and compelling product descriptions for their online stores.
One of the most impressive things about Descrii is its unique ability to seamlessly convert features of your products into benefits.
In addition, this amazing product description generator harnesses the power of AI to help you whip up killer product descriptions in no time.
Descrii's intuitive interface makes it easy for you to add all kinds of multimedia content, from images to videos and beyond.
Moreover, Descrii automatically optimizes your Shopify product descriptions for search engine results pages, so you can get noticed and climb up the Google ranks.
However, the effectiveness of Descrii as a writing tool is dependent on various factors such as the quality of the input data, the specific needs and preferences of the user, and the competitive landscape of the e-commerce market.
Frequently Asked Questions (FAQs)
Is it safe to use an AI generator to write Shopify product description?
Yes, it's completely safe to use an AI generator to write Shopify product description. Writing product descriptions using an AI tool not just help you in avoiding writer's block or creative burnout but it also enables you to generate descriptions more quickly and efficiently. This can save time and effort, allowing you to focus on other aspects of your business.
What is an SEO optimized product description?
An SEO optimized product description is a product description that is written with the intention of ranking higher on search engines. This involves using relevant keywords, formatting the content correctly, and providing clear and concise information about the product. The goal is to improve visibility and attract potential customers who are searching for products like yours.
What are some of the tips to write a good product description on Shopify?
Some of the things that you need to take care of when writing product description on Shopify are:
1- Keep it concise and easy to read.
2- Use descriptive language to create a vivid image of the product in the customer's mind.
3- Tell stories to help inspire a purchase.
4- Optimize description with SEO and intent-based keywords.