Hey, there all e-commerce sellers!
Are you tired of spending countless hours writing product descriptions that just don't pack a punch?
Don't worry, because we are bringing to you the 7 best product description generators of 2023!
These AI product description generators will revolutionize the way you write descriptions for your products and sell them online.
With just a few clicks, you'll be able to craft captivating descriptions that'll have your customers reaching for their wallets.
We've evaluated each product description generator based on its pros and cons, features, and pricing so you can easily choose the one that's right for you.
So, grab a cup of coffee and get ready to discover the secret to writing irresistible product descriptions.
5 Reasons Why You Should Opt for AI Product Descriptions Generator
Efficiency: While writing product descriptions manually is a hectic task, writing them using an AI generator will help in writing product descriptions quickly and efficiently, saving time and resources.
Consistency: Being able to write consistently isn't everyone's cup of tea. However, with a product description generator, you can write descriptions with consistent tone, style, and language while making it easier for buyers to understand your products.
Customization: Various product description writing tools are trained to write product descriptions based on specific criteria, such as target audience, brand voice, and industry standards which is hard to write as a human.
Data-driven: Product description generators are usually trained on lots of data to write engaging product descriptions, ensuring that the descriptions are based on real-world insights and trends.
Cost-effective: Hiring a professional writer to write product descriptions requires a good budget. However, an AI product description generator is more cost-effective than hiring a human writer, especially if you are just starting as an e-commerce seller.
Top 7 Best Product Description Generators 2023
1. Magiscriptor: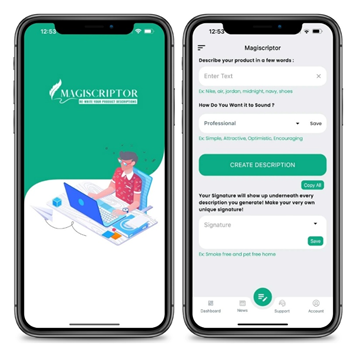 Our very first pick for the best product description generator is Magiscriptor and for all obvious reasons. The first one is its ease of use!
MagiScriptor is a very user-friendly and easy to use app that allows you to generate product descriptions within seconds.
What really makes MagiScriptor the best writing app for Android is the fact that it is the only tool on this list that is specifically build for writing product descriptions.
MagiScriptor uses advanced algorithms and natural language processing to generate SEO-optimized descriptions that are keyword-rich and rank higher in search engines.
Moreover, MagiScriptor AI writing assistant is trained on a plethora of specifically collected data that particularly helps it generate accurate, high-quality product descriptions based on the product's attributes and features.
It analyzes the most relevant keywords and phrases related to your product and includes them in the descriptions in a way that is both natural and effective.
Not just product descriptions, the app can also write bullet points for your products so that visitors can know about your product at a glance.
Moreover, MagiScriptor generates product descriptions that are engaging, descriptive, and persuasive, designed to convert visitors into buyers.
Another thing that makes MagiScriptor one of the best best AI content generator app is that it provides users with a range of customization options, allowing them to personalize their product descriptions to fit their brand's tone and style.
2- Copy.Ai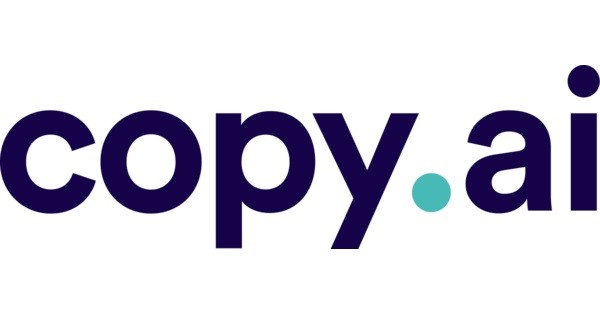 Copy.Ai is another powerful AI-based content generator that you can use to write product descriptions, taglines, and other types of marketing copy.
Though Copy.Ai is not a product description centric tool designed and trained to write product descriptions, it still do a decent job writing descriptions.
To write a product description with Copy.Ai, all you need to do is to input keywords or phrases related to your product and the tool generates suggestions for product descriptions.
What makes Copy.Ai a great product description writing tool for online businesses and marketers is that it generates well-written product descriptions, with a professional tone.
Moreover, the tool optimizes the product description for various search engines so that you can have increased visibility for more sales.
While the cutting-edge AI technology that Copy.Ai uses ensures that the generated product descriptions are consistent and free of grammar and spelling errors.
Overall, Copy.Ai seems to be well-received by users, with many praising its convenience and ability to produce high-quality copy in a fraction of the time it would take to write it manually.
3- Jasper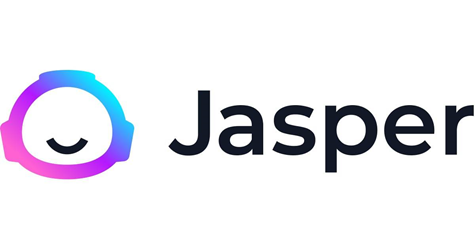 At number 3, on our best product description generators 2023 list, we have Jasper.
Jasper is a premium product description writer that promises to help online sellers create high-quality product descriptions quickly and easily.
The tool uses advanced algorithms to take and analyze prompts for each product and generate descriptions that are engaging to the reader.
In addition, Jasper provides suggestions for keyword optimization, helping to improve the search engine visibility of product descriptions.
But since Jasper is an automated tool, there is always a risk of errors in product descriptions, such as typos and inaccuracies.
Jasper's performance depends on the quality of the data it receives, so users must ensure that product information is accurate and up-to-date.
For that, you need to manually read and check the description to make changes if required.
4- Rytr

RYTR is another great online product description generator that is capable of providing accurate and informative descriptions, making it a useful tool for writing product descriptions.
It can generate clear, concise, and engaging language that appeals to target audiences and provides essential information about the product.
Moreover, Rytr ensures consistency in the language used for product descriptions, reducing the chances of making errors or using inconsistent terminologies.
However, it is important to remember that RYTR's outputs may require editing and human touch to ensure that the final product descriptions are unique and align with a brand's tone and style.
So ultimately, the effectiveness of Rytr will depend on the individual's writing skills and their ability to utilize the tool effectively.
5- Write Sonic


If you are on the quest for a product description generator that can create SEO-optimized and plagiarism-free content then Write Sonic is a great too to buy.
The best thing about the Write Sonic product description generator is that it is incredibly versatile and can be used for a wide range of products, from consumer goods to industrial products.
Whether you are selling clothing, home décor products, or fashion accessories, this tool can help you write a description that is clear, concise, and effective.
Moreover, the writing tool ensures that your product descriptions are tailored to your target market and are written in a way that resonates with them.
You can even provide a voice command to Chatsonic and it will generate content for you.
6- Content Bot Ai

At number 6, on our best product description generator list, we have ContentBot.ai.
Content Bot is another useful online content generator tool for writing product descriptions, especially if you need to generate a large number of descriptions in a short amount of time.
The product description generator uses advanced algorithms to generate descriptions based on the information you provide, so you can get high-quality content that is relevant and engaging to your target audience.
Moreover, the tool is capable of maintaining a consistent tone, style, and format across all product descriptions.
However, it's important to keep in mind that while ContentBot.ai can be a helpful tool, it's still not good enough to substitute human creativity and judgment when it comes to writing product descriptions.
7- Copy Smith

Copysmith.ai is another promising AI content writer tool that helps online sellers write product descriptions quickly and accurately.
The best thing about Copysmith.ai is that it has a bulk product description generator feature that can generate multiple product descriptions within seconds.
The user interface of Copy Smith is very user-friendly and intuitive, allowing users to quickly input product information and generate a description.
Moreover, the generated product descriptions are unique, which is a key factor in attracting customers and standing out from the competition.
The tool even offers you a range of customization options, enabling you to specify the tone, length, and style of the description.
Conclusion:
No matter if you are selling products on your website or an online marketplace like Etsy and Poshmark, the best product description generator that we featured above are designed to simplify the task of creating product descriptions.
Moreover, will make it easier for you to write persuasive and appealing product descriptions to grab more sales.
Each of the product description generators mentioned in the blog offers unique features and benefits, and it is up to you to choose the one that best fits your needs and budget.
No matter if you want to generate product descriptions quickly, improve your writing skills, or create high-quality content, these product description generators will surely make your job easier and more efficient.
Hope you find our picks for the best product description generator helpful. Keep following MagiScriptor!